Onan Dimensions and Clearances
Model

Performer P216

Performer P218 P220

Performer P224

BFA B43M

BGA

B48M

BG

CCK CCKA CCKB

NH NHC N52

HP

16

18, 20

24

Cck 10-12

ccka 16.5

cckb19.5

25hp

STD Bore

3.250

3.250

3.562

3.250

3.250

3.250

3.250

3.562

Stroke

2.620

2.875

3.000

2.620

2.87

3.000

3.000

3.000

Rod Journal

1.625

1.625

1.625

1.625

1.625

1.625

1.625

1.625

Main Journal

2.000

2.000

2.000

2.000

2.000

2.000

2.000

2.000

Crankshaft End play

.006-.012

.006-.012

.006-.012

.006-.012

.006-.012

.006-.012

.006-.012

.006-.012

Point Gap

Electronic Ignition

Electronic Ignition

Electronic Ignition

.021

.021

.021

.020

Nh .020

nhc .016

n52 .019

Spark Plug Gap

.025

.025

.025

.025

.025

.025

.025

.025

Valve Clearance

IN .005

EX .013

IN .005

EX .013

IN .005

EX .013

IN .008

EX .013

IN .008

EX .013

IN .008

EX .013

IN .007

EX .016

IN .003

EX .012

If your model is not listed here or you have any questions please call us at 815-485-4545
Onan Head Torque Specifications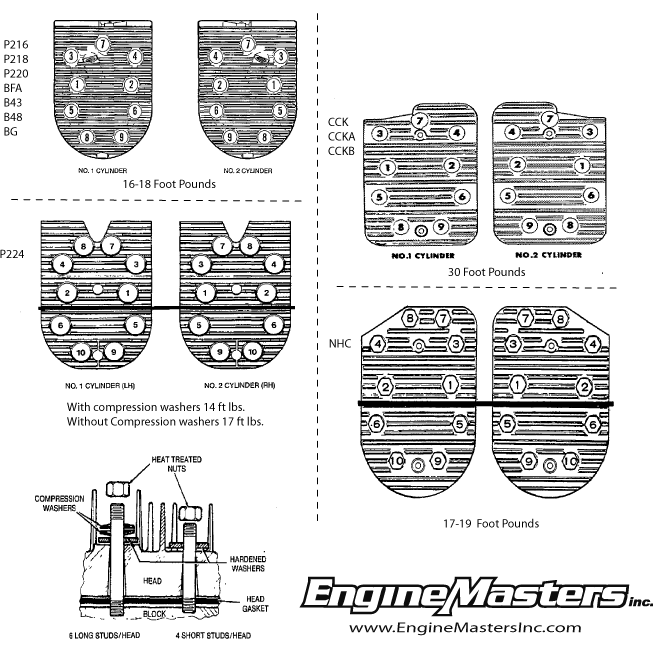 Other Onan Toque Specifications

Timing Cover - 10 Foot Pounds
Rear Bearing Carrier - 25 Foot Pounds
Rod Bolts (Steel Rods) - 27-29 Foot Pounds
Rod Bolts (Aluminum Rods) - 12-14 Foot Pounds
Flywheel - 50 Foot Pounds
Intake Manifold 5/16" Bolts - 10 Foot Pounds
Intake Manifold 3/8 Bolts - 25 Foot Pounds
Exhaust Manifold - 11 Foot Pounds

Warning! Please refer to your proper service manual when making any repairs.
Coming Soon!
-Caburetor adjusting
-Please call if you need any other information or to order parts!
815-485-4545

Please call for parts ordering and our staff with over 30 years of experience will be happy to help.
Technical support available to customers.

815-485-4545