Send your Onan Engine or Generator to Enginemasters for custom rebuilding.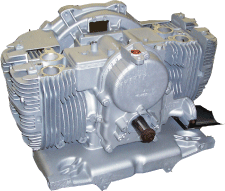 Enginemasters Inc. will receive your engine and tear it down to give you an estimate for rebuild. Every rebuild is different, so the price is never the same. All engines are:
Disassembled completely
Parts cleaned and inspected
Valves and seats ground
Valve seats checked
Cylinders bored or honed
Crankshaft polished or ground
Rings and/or pistons replaced
Main bearings checked or replaced
Cam bearings checked or replaced
New seals installed
Valves adjusted
Oil pump cleaned and rebuilt as necessary
Carburetor cleaned or rebuilt as necessary
Charging system checked
Reassembled complete
Bench run and Preped
Not every engine must be completely rebuilt. We do custom work, so parts that are within factory specifications and dimensions will be reused or reconditioned whenever possible. If you prefer something specific be done please let us know and we will work it into our quote.
How much?
The AVERAGE Onan twin cylinder rebuilding job costs at least $2000 (That includes parts & labor). Remember, each is a custom job, yours may cost more or less. This price is subject to change with part pricing and part availability. Please call for more information.
Generators may incur more cost because of the additional labor involved during rebuilding. If you bring the engine mounted to the equipment, (welder, tractor, or other machine) additional labor is charged at the current posted hourly labor rate.

You can rebuild it yourself!
We do not create kits with extra parts and costs that you don't need. Call us to help you decide what parts to get. Save on the labor costs and do it yourself. AVERAGE parts cost for a self rebuild is anywhere from $600 to $1000.

We currently will NOT rebuild the Onan BF engine. Pistons in all sizes have been obsolete for over 15 years. Rings are still available in select sizes. Please call for more information.
EnginemastersInc.com
22037 Howell Drive
New Lenox, IL 60451
815-485-4545
Fax 815-485-4559
800-860-2091